The web for any device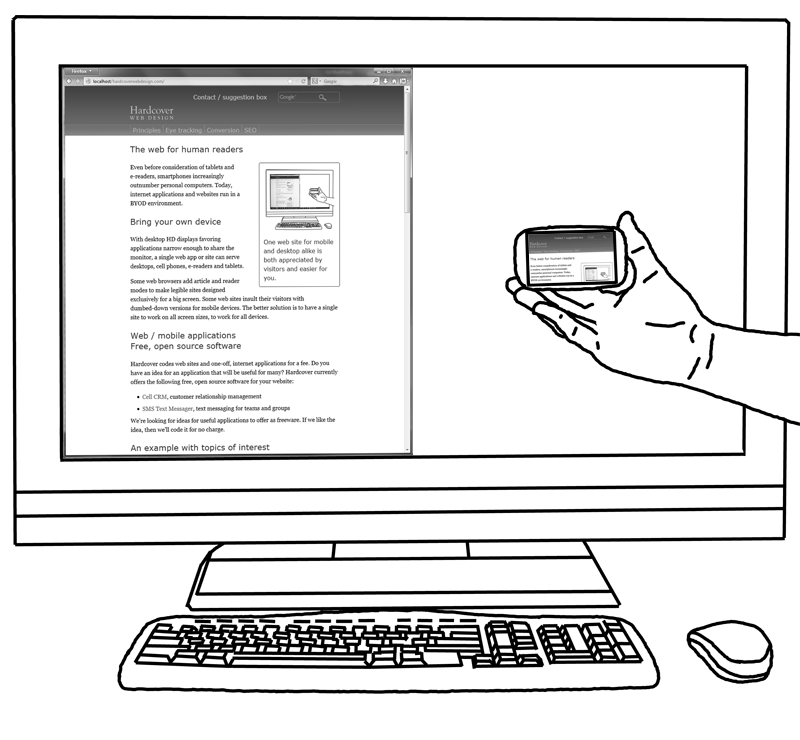 One website for mobile and desktop alike is appreciated by visitors and easier for you.Smartphones outnumber personal computers and printed media is in decline as smartphones, e-readers and tablets are considered more convenient. Content is delivered, and applications run, in a BYOD environment.
Bring your own device
With wide-format HD desktop displays favoring applications narrow enough to share the screen, a single web app or website can serve desktops, cell phones, e-book readers and tablets.
Some web browsers have article and reader modes to make legible websites designed exclusively for a big screen. Some websites insult their visitors with dumbed-down versions of the website for mobile devices. In both cases, the fix is a single website for all screen sizes and all devices.
Websites, mobile applications, free open source software
Hardcover codes websites and one-off, internet applications for a fee. Do you have an idea for an application that will be useful for many? Hardcover currently offers the following free, open source software for your website:
We're looking for ideas for useful applications to offer as freeware. If we like the idea, then we'll code it for no charge.
An example with topics of interest
View this website from both a desktop and a mobile device. The website serves as an example of how a single website can work for many devices. Topics of interest to most visitors get a brief review:
Hardcover develops to the latest standards for maximum portability. Mobile devices are particularly sensitive to anything less than standards compliance. Websites for touch screens have additional standards for the minimum size of buttons, navigation and input elements.
When HTML5 applications are appropriate
Map applications rely on the device's GPS; video-call applications rely on the device's camera and microphone. HTML5 applications are appropriate when there is no need to use hardware on the mobile device. HTML5 applications are not device specific but serve the widest audience by running on any device with a web browser. Regarding cost, ongoing maintenance is the greatest portion of the cost of software. HTML5 applications are less expensive to maintain over time than mobile applications.

Eye-tracking studies show you would not spare a glance for that common photo of a woman wearing a headset.

In order to be noticed, images must be unique and illustrate the content.

Browse the website for other tips.We are interested in hearing about:
The direction for your web application or website — we do not bill for time related to determining how we may assist to you
Ideas for useful, free, open source software we will code for free
Contact us / suggestion box
Hardcover's telephone is +1 971 259 8893 in the Pacific time zone (Oregon). Perhaps the form below will pass on your contact information more quickly than a phone call. We will never give your contact information to other organizations. *Required field.